Good evening, O travellers,

I've got a two-day period of stories for you. Not quite a saga to you, but it's something quite profound to me. Two days of my life never to be emulated. Tales which shall add to the tapestry of my little clan.

I've been reading into astrology lately. This has not been for any good reason, and certainly not because I 'believe' or whatever, but it passes the time (and it's better than reading the 'current affairs' section). That said, I've included some interesting horoscopes for the dates in question which I found tonight. I won't judge their veracity or relevance - decide for yourself.

I'd like to quote a few lines of verse from Sir Walter Scott with my dad in mind:-



Hail to the chief, who in triumph advances,
Honored and bless'd be the evergreen pine!
Long may the tree in his banner that glances,
Flourish, the shelter and grace of our line.


***
Sunday the 7th of September, 2008

Sunday's Horoscope: "You are feeling sober and realistic about love at this time, and are interested in being with people you respect and can depend upon - your oldest, true-blue friends. Also, reaching out to an older relative or another mature, experienced person can mean a lot to you and be mutually beneficial now."

In the early afternoon I was doing stuff upstairs, oblivious to what was going on right under my nose (as usual, some would say). I go down to get tea or something, walk into the living room and suddenly I'm presented with relatives - I mean lots of relatives. Joan and Brian, Betty Ryan, Paul, Jon and Jackie (Jon's mum). They'd arrived so that they'd be here in time for my dad's funeral on the 8th. I'll address the importance of numbers in a moment.

It gets better. Something along the lines of "oh, the Cunninghams are about to arrive" comes to my attention. So, Rab and I trudge up the road to make sure they don't miss our road-end. Evidently that wasn't a problem. Nice big Lexus pulls up with Siobhan (driving) and Anne in the front - behold, Eileen and Seamus in the back! Not only are they relatives, but this pair of spritely souls are Mark's godparents. This was the first time I'd properly introduced myself to them, so it was cool. They drove down to the house while Rab and myself walked down. Now, for one thing, it's the most relations I've ever seen in my house at the same time - probably because it's the most amount of anyone I've ever seen in my house.

Some time after six, we decide we're all going out for dinner. Everyone leaves ahead of Mum and myself - we end up slightly late because of a camera(!) - and we go pick up Raymond Kelly before heading to Crocketford, arriving at about half past seven, for our meal with the rest of the clan (Raymond sat to one side because he'd already eaten).

It was now that things, for me, got really interesting. I wasn't silent the whole night, but there were moments of outer quiet for me, where I just listened to all these people talking. Some of them I'd only just met the same day - and yet... I realised this was how a family's supposed to be. I felt a kind of warmth and 'over-fullness' which is, I expect, the feeling of immersion in family affairs. I'm talking, in short, about the feeling of family. It proceeded to get deeper still as the night went on. I gained fascinating insights from Raymond and Seamus - who, despite their very different personalities, are both wise old dogs. Don't let them fool you otherwise! Seamus demonstrated to me how easy it is to capture the attention of women-folk with the inborn gift of Irish charm. I'm beginning to really understand what people mean when they say that youth is wasted on the young.

Anyhow, we ended up leaving at around ten and Mum led the way in her car for the Cunninghams to find the hotel they were staying at, the Woodlands House Hotel, not so far from my home. After briefly seeing to things elsewhere, we returned to the hotel where we sat in with the younger folk and had a wee drink and a big laugh.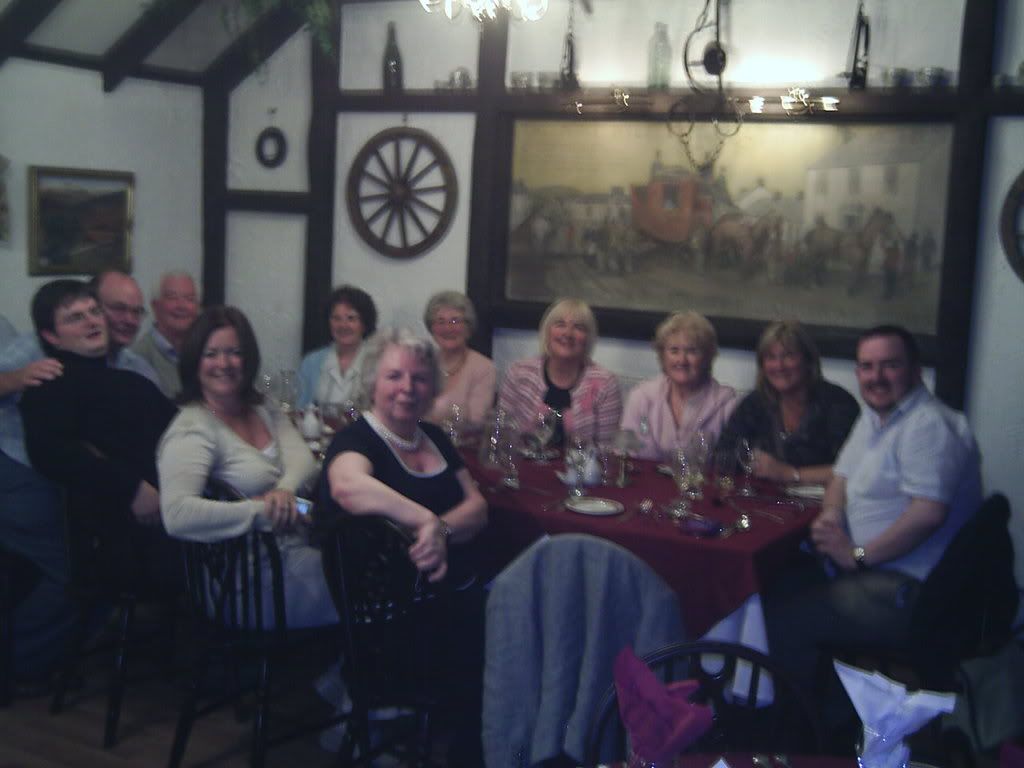 This day, I feel, went well.

***

Monday the 8th of September, 2008

Monday's Horoscope: "You are capable of forceful, decisive action, and you have the will to carry through on your intentions at this time. Physically, you feel good and your energy is flowing smoothly. Also, your interactions with others are feisty and spirited. You inspire others to take action, and group efforts or joint projects are favored."

The day which had to come.

I think I nearly cut my own throat shaving, because a couple of people (you know who you are!) kept phoning while Mum and I were getting ready in the morning. It was quite cold, but as soon as we got to the Crichton Church, we started heating up really quick. Mum and my brothers did really well. I'm really proud of them all. It was hard walking up the aisle to find his casket lying there, knowing his once-living form lay right before us. There were so many people around, too.

The celebration of Dad's life was conducted by Rev. Dr Bond, who did a really good job of capturing the right mood. The recitations were given in order of age: Paul read out Psalm 23 from the Bible in the traditional form; Mark read out the lyrics of the Eric Clapton song 'Tears in Heaven'; finally, I read Rudyard Kipling's poem 'If—'. At the end of the service, we were about to leave when we noticed my Uncle Joe wasn't getting up and his breathing was funny. Things got worse when I realised his face went the colour of my shirt. Honestly, I thought that was all she wrote for the old wordsmith. I couldn't do much, just standing there and thinking "We're cursed! We're f***ing cursed!" - but there was a doctor on hand, along with people there helping her. Somehow, luckily, he came around again and seemed to regain himself to an extent - it was touch and go for a wee while, though.

Joe was well enough to come to the graveside at Irongray kirkyard ( - which is one of the most beautiful places I've ever had the joy of finding myself in - ) but he was relieved of the duty of cord-bearing with me. Michael Irving was committed to the earth with few words and many on-lookers.

After the internment, we proceeded on to the Woodlands House for refreshments and what became, for me, a little shindig in his memory. There were a lot of emotions brimming, a lot of good yarns being spun and much drink to be had. Most of us laughed lots, which I liked - more importantly, which he himself would have liked. Dougie and I kind of propped each other up after the service. We were in good company (given that half my family tree was there) and I felt a strange measure of happiness about which Dougie said "you don't realise it yet, but that's relief".

The night went so well, I ended up going out for drinks with Mark, Dougie, the lads and all the girls. This came full circle and we ended up back at Cluden Lodge, where the celebrations in Dad's honour lasted until breakfast-time today.

IF—

IF you can keep your head when all about you
Are losing theirs and blaming it on you,
If you can trust yourself when all men doubt you,
But make allowance for their doubting too;
If you can wait and not be tired by waiting,
Or being lied about, don't deal in lies,
Or being hated, don't give way to hating,
And yet don't look too good, nor talk too wise:

If you can dream - and not make dreams your master;
If you can think - and not make thoughts your aim;
If you can meet with Triumph and Disaster
And treat those two impostors just the same;
If you can bear to hear the truth you've spoken
Twisted by knaves to make a trap for fools,
Or watch the things you gave your life to, broken,
And stoop and build 'em up with worn-out tools:

If you can make one heap of all your winnings
And risk it on one turn of pitch-and-toss,
And lose, and start again at your beginnings
And never breathe a word about your loss;
If you can force your heart and nerve and sinew
To serve your turn long after they are gone,
And so hold on when there is nothing in you
Except the Will which says to them: 'Hold on!'

If you can talk with crowds and keep your virtue,
' Or walk with Kings - nor lose the common touch,
if neither foes nor loving friends can hurt you,
If all men count with you, but none too much;
If you can fill the unforgiving minute
With sixty seconds' worth of distance run,
Yours is the Earth and everything that's in it,
And - which is more - you'll be a Man, my son!



***

I had an adventure today, too, which I shall reveal in another short post. For now, that's all I really have to say.

Beyond this, I wish only to toast my father in his absence and to bring honour to his name.


Rest in peace, Chief.



----------------
Now playing: Peter Gabriel - Father, Son
via FoxyTunes